The Crotals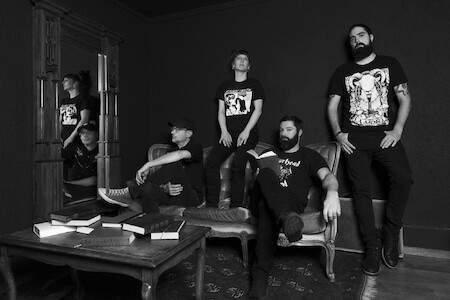 Swiss Sludge Rockers The Crotals Sign with Argonauta Records and Unveil First Single / Music Video
Argonauta Records proudly announces the signing of Swiss indie/sludge hardrockers, The Crotals, to release the band's third full-length album Conjure. The band, known for its fierce blend of indie, sludge, and hard rock, has garnered attention for its unapologetic sound and intense live performances. Following their acclaimed albums "Fuel ! Flames ! Blast !" and "Horde", The Crotals are set to conquer new horizons with their upcoming release.
To celebrate their signing, The Crotals have unleashed their first single and music video, "La Boue". Translating to "mud" in French, the track is a visceral exploration of dark, introspective themes. "La Boue" is hollered by screamers Guy and Randy in their mother tongue.
« J'ai regardé dans la boue, pour y voir mon reflet » (« I stared at mud, to see my own reflection ») : the first line of this sad and violent track is accompanied by two heroic and sorrowful choruses. Through this alternative piece of darkness, the band offers a glimpse of the indie music that forged their ears some decades ago… to then fill it up with the sour perfume of howling harshness.

About Conjure - The Crotals lay claim to rock and roll, but they also are especially fond of taking side roads. Conjure can therefore be understood as a sum of diverse experiments and confluences in the long run. Through eleven rough songs, the band delivers an odd indie/sludge recipe, driving ears from doom/sludge melancholy to the edge of punk/hardcore blades, demonstrating a real pleasure in cracking the « metalsound » cliché. The two screamers give Conjure a peculiar tone, enhanced by a volley of metal, rock, and rap guests who erect a wall of heavy, aggressive, and gloomy tracks.
After having served for more than twenty years in various bands, The Crotals wanted to keep on playing loud music, but in a fiercer way. Originally a trio, they welcomed a second screamer in 2018 to perform the fuzzy craft of rock'n'roll. Following their first two records Fuel ! Flames ! Blast ! (2014) and Horde (2018), The Crotals found the center of gravity of their varied influences: they now «shoot straight and speak the truth» under the benevolent legacy of their ancestral mentors (Entombed, Motörhead, Unsane, Sonic Youth, Breach, Crowbar) and newer buccaneers such as Kvelertak, High on Fire, and Black Cobra. They dispatch an uttermost piece of dark clamour corroded by wasted speakers and dismembered amps. Swooned in heavy distortion, they crash overheated tubes as the drums are hammered without restraint. The Crotals' heavy indie/sludge tunes only pledge allegiance to the wall of vintage Marshall amps overlooking them. That said, The Crotals are very friendly people.
https://www.facebook.com/thecrotals
https://www.argonautarecords.com/