KARRAS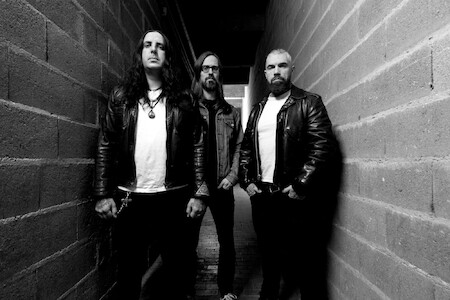 KARRAS UNLEASH NEW MUSIC VIDEO FOR "LUTHERAN BLADE" Forthcoming Album, 'We Poison Their Young,' Coming Sept. 29th
Karras upload their next attack with the video for their current single "Lutheran Blade." Featuring footage of the punishing French trio performing live. Check it HERE -

"This music video was compiled during our GRIND TO THE VOID tour in October 2022 with French cult Grindcore band, Blockheads," explains singer/guitarist Diego Janson.
"Through the lyrics the band tell the story of Roland Doe dreaming about killing his proper family during his exorcism sessions… with a razor-sharp knife. The Lutheran doctrine, « by grace alone, through faith alone, scripture alone » guides Roland to dominate his blade and slay anyone who gets in his way. You will understand what 'sacramental laceration' means."
"Lutheran Blade," directed by Shtrak Productions, follows on the heels of the KARRAS' other video offerings including the 8-second assault "Demons Got Rhythm"
and the hammering "Roland Doe," whose music video
was shot in the catacombs of Paris. All 3 songs come from their sophomore effort, 'We Poison Their Young,' out Sept 29th.
'We Poison Their Young' will be released on Digipak CD, digital download & streaming outlets, as well as two variants of colored vinyl – 300 copies of red and black splatter available at stores and online, or the 100 copies on black and white marble variant exclusive direct only from the band and label. T-shirt bundle options also exist at our label webstore or Bandcamp.
Pre-order now at https://lnk.to/wepoisontheiryoung
'We Poison Their Young' was produced, engineered and mixed by drummer Etienne Sarthou at Hemlig Studio – France, while Cult of Luna guitarist Magnus Lindberg mastered the record in Sweden at Redmount Studio.
KARRAS formed in 2017 and were named as an ode to the life and death of Father Damian Karras from the cult horror film, The Exorcist. The trio are as equally compelling, sinister and evolving as the popular movie delivering a mix of punk-crust, grindcore and old-school death metal. KARRAS made quite an impression on the European scene with 2020's debut, 'None More Heretic' (Verycords). That and the forthcoming follow-up are intense displays of the band's effort to resurrect Father Karras' legacy and to give him a second chance but moreso to deliver a deafening way of reasoning.
Upcoming Live Show
10/21 - Tyrant Fest - Chemin du Tordoir, France
More information on KARRAS and the upcoming album release will be revealed in the weeks to come at www.facebook.com/karrasband and by M-Theory Audio.
www.facebook.com/karrasband
www.instagram.com/karrasband
www.karrasband.bandcamp.com
www.m-theoryaudio.com
Karras is:
Diego Janson - vocals & bass
Yann Heurtaux - guitars
Etienne Sarthou- drums