interview with Ro Sven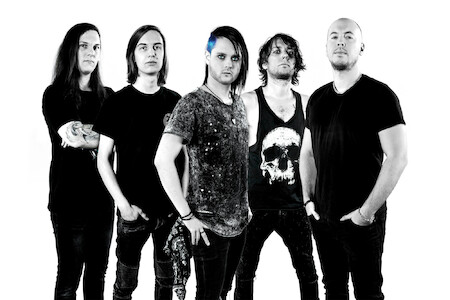 Hello to EDGE OF REASON
Hi!
Alan - Thanks for being able to make a interview for our medium.
Ro - Thank you for having us!
Alan - Who are you and who answers questions?
Ro - I'm Ro Seven, Singer of The Edge Of Reason.
Alan - How many times were u playing in Czech Republic?
Ro - Four times by now! And we are looking forward to come back!
Alan - Where can we check you out?
Ro - You can check us out on www.teor.de and also on social media like intagram, twitter, facebook and youtube. You can listen to our musik on spotify as well!
Alan - When someone would have interest in your concerts in Czech Republic, where they can hit you out?
Ro - You can always check out our tour date on our webside!
Alan – What´s your last album, and what is your plan to do?
Ro - Our latest album is called Sting and we are planing to release a view new Singles and also a coversong. But I can`t reveal it right now.
Alan - Where in Czech was the best place to play, and why?
Ro - Oh that's a tough choice. But I would say Ostrava v plamenech, because the location was unusual and breathtaking. Also we had a lot of fun with the crowd and all the people there!
Alan - Do you have any favorite festivals?
Ro - In Czeck republic it would be Ostrava v plamenech and in Germany maybe Rock am Ring.
Alan - And in foreign countries? Do you have any favorite festival or club?
Ro - In other countries it would maybe be Woodstock in Ukraine. That was a very nice festivial with nice people in the middle of the woods.
Alan - Do you know any Czech musicians or bands?
Ro - We met the bass player from Lautr backstage in Ostrava. Very nice guy.
Alan - Would you mind to cooperate with any Czech interpret, and if yes with who?
Ro - I would not mind if we would like their suff and if it fits! But unfortunately we don't really know any Czech interprets.
We'd love to though!
Alan - You are a long time on a scene. Do you have any unfulfilled musician dream?
Ro - Well, we had a very long break about 3 years after our first EP. For us it feels like we started from scratch in 2017. I am very happy with the way everything is turning out so far.
Alan - What 3 songs do people want hear on concerts? and what is your opinion?
Ro - I don't know to be honest. It differs a lot. But especially they really seem to enjoy "Loved A Liar", "River" and "Bread And Water" most of the time!
Alan - What is your favorite 3 songs from you?
Ro - I like almost every song about the same. But if I had to choose it would be maybe "Loved A Liar", "Squeezed Lemon" and "A Stranger You Know". But I think it depends on my mood as well.
Alan - What do you want say to your fans in Czech republic?
Ro - Thank you so much for having us all the time! We really love coming to Czech republic and are always having a great time with you guys! Keep it up!
members of a band :
Ro Seven
Billy Oldboy
Dani Schöneberg
Alexander Gorst
Niko van Laak