interview with Percival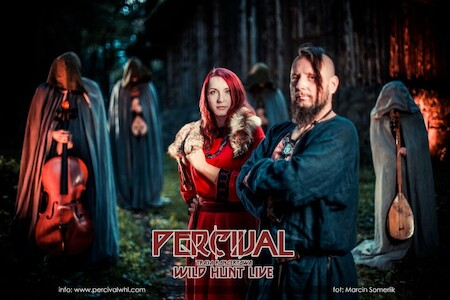 Hello
Alan - Thanks for being able to make a interwiev for our medium.
M - Hello! We're happy too :)
K - Hello!
Alan - Who are you and who answers questions?
K: - I'm Katarzyna...
M - and I'm Mikołąj. We're the band PERCIVAL and you probably know us because of our collaboration with CD Projekt RED in creating soundtrack for the Witcher 3 game.
K: We're not a typical band because we have many musical projects in one: we play a historical Slavic music as Percival, we play folk metal music as Percival Schuttenbach and we also have Wild Hunt Live shows where we present music known from the Witcher III game.
Alan - How many times were u playing in Czech republic?
K - A lot :) We live not so far from the CZR, so we visit it quite often.
M - This year we played at Blavicon - Witcher Festival in Tabor, we also gave one show in Prague as a part of our spring Percival tour. In the past we've participated in some historical festivals in Czech Republic, so yes, it's a lot.
K - And soon we're going to play in Brno at Game Access Conference with Wild Hunt Live project and we're really excited about that.
Alan - Where can we check you out?
M - Please follow us on Facebook (Percival Schuttenbach), on Instagram (@percivalwhl, @mikołajrybacki, @katarzyna_cello), we have also our website www.percival.pl and we also have our online shop where you can buy our CDs, T-shirts and more.
K - Also please subscribe to our channel on YouTube - we release a new video almost every week: musical videos, Q&As and other stuff. We have our own show "Don't you shoot that!" where we show our musical lives and soon we're going to relaese the first episode of the third series. We know many people are looking forward to it.
Alan - When someone would have interest in your concerts in Czech Republic, where they can hit you out?
K - As we mentioned before, very soon (May the 26th) we'll give a Wild Hunt Live show at a big event in Brno - Game Access. It'll be a treat for all Witcher's fans. The show is a combination of beautiful music, great lights, wonderful dance and acrobatic performances and video projections with the Witcher game fragments. It is definitely worth seeing.
M - We definitely want to come to Czech Republic more often and we will. We have more and more fans here in your country.
Alan - Whats your last album, and what are you planing to do?
K - We have a lot of exciting plans - concert tours, new shows, new albums with all our projects.
We have many, many ideas and usually not enough time to make it all happen. But we're doing our best :)
M - When it comes to our latest album, we released two of them this year: Slava III with Percival project - songs of West Slavs, the other one is "Dzikie Pola", the newest album of folk metal Percival Schuttenbach. Both are great :) We put a lot of work into preparing them and we're really happy with the results. Now we're planning new albums, we don't have time to rest.
Alan - Where in Czech was the best city to play, and why?
K - So far we've played mostly in Brno and Praha and we must say that both are great. The audience always gives us a very warm welcome and it's a pure pleasure to play for them. So it would be really hard to say which one is better.
M - We are always very happy to come and play for our fans in Czech Republic and we can't wait to play Wild Hunt Live in Brno.
Alan - Do you have any favourite festival?
K - You mean the festival we played at or just a festival in general? Also, a historical festival or a metal festival? Because they're totally different kind of festivals and we used to play at both. There's so many great festivals, it's hard to distinguish only one.
M - When it comes to historical festivals, the Festival of Slavs and Vikings in Wolin is probably one of our favourites, because first of all - it's the biggest such festival in Poland, even in this part of Europe, so it's most impressive, but also because we go and play there every year, for almost 15 years now.
Alan - And in foreign countries? do you have any favourite festival or club?
K - I don't think we have any favourite club in any foreign country yet. We haven't played enough shows abroad to have our favourite club.
M - When we talk about festivals there's a few we'd love to play at, like Brutal Assault in Czech Republic, Wacken in Germany and the most crazy one - 70 000 tons of metal - the world's biggest heave metal cruise. That would be awesome to play there :)
Alan - Do you know any czech musicians or bands?
K - Yeah, sure, a few of them. My favourite band from Czech Republic is SSOGE (Silent Stream of Godless Elegy), they play really beautiful, very unique music. From time to time we meet at the same stage.
M - The other such band we know and like is Cruadalach. We also know Helena Vondrackova i Karel Gott :D But also -123 minutes - we're not sure how to pronounce the name :) We were once at their concert long time ago and we were really impressed.
Alan - Would you mind to cooperate with any czech interpert, and if yes with who?
M - Yes, why not. We don't have anyone specific in mind, but if there's an opportunity (and time!) we would be happy to do it. We're very open for any cooperations.
K - In the past we already cooperated with Czech artists. On our "Svantevit" album our guests are Jan Vrobel, the ex-vocalist of Cruadalach and Pavel Zouhar, the ex-violinist from SSOGE. We also recorded some vocals for one of the Cruadalach albums.
Alan - You are a long time on a scene. Do you have any unfulfilled musician dream?
M - Well, we're still working on it, we've been working on our musician dream for 20 years. Our main dream, our main goal is just to be able to live doing what we love - which is creating and playing music - and being able to do it without any limitations, of any kind.
K - I don't think there's an end to this journey. We must keep going and we'll probably never reach the point when we can tell - ok, that's it, we're here, we achieved everything we wanted, our mission is complete. We love that journey and the vision of constant progress but we also love what we've already achieved and what we have. We cooperate with great musicians, we give plenty of great shows, we keep growing, we have big plans for the future. We feel like all the best things are still ahead.
Alan - What 3 songs do people wanna hear on koncerts? and what is your opinion?
K - It depends. We have three different musical projects and we play different repertoir in each of them. There are some songs that people like the most, we're not always sure why they like these particular songs, but we don't argue with that and just play them on our shows and have fun.
M - Some of our songs are popular because of the Witcher game, that's obvious. We play them on every show with every project - like Sargon (which is "Silver for monsters") or "Lazare ("Steel for humans").
Alan - What is your favourite 3 songs from you?
K - Oh, the questions is too difficult, definitely. We've been writing songs for 20 years and have plenty of them. I can't choose just 3 favourite songs, not even 10 favourite songs. It's impossible! I like plenty of them and it's a pleasure for me to play all of them.
M - It is always nice to play the newest songs from the newest albums - their fresh and exciting and we can't get enough of them. But on the other hand, we sometimes reach for our older repertoire, for songs we haven't played for years and find them exciting too. We're sentimental about all our songs.
Alan - What do you wanna say to your fans in czech republic?
K - Thank you for your support, you're great! We love you Czech people and love playing for you! We hope we can play for you as often as it's possible!
M - Yes, playing for you is a pure pleasure. See you in Brno :)
members of the band :
Mikołaj Rybacki
Katarzyna Bromirska
website:
www.percival.pl

Facebook:
FB/PercivalSchuttenbach
Instagram:
@percivalwhl
@katarzyna_cello
@mikolajrybacki