Interview with Moran Magal
Moran Magal currently lives in Berlin, where she has acquired a relatively good background. In this interview, we will talk about the journey from Israel to Berlin. And a form of creation where it floats through musical genres through folk to metal.
Alan – Hi. I would like to ask right at the beginning. Are you performing as Moran Magal with a backing band? Or how are we to understand all this?
Moran Magal - An artist and a band. I am a singer songwriter and composer, and I am working on my music, recording it and performing it mostly with the same group of people for several years now. That gives the music an established and unique band sound. We are a band, just in our case the name of the band is also the name of the creator behind the music.
Alan – You play a lot of instrument, mainly piano and keyboards. Did you study piano? And where?
Moran Magal - Yes I study classical piano for many years and have also a degree in Jazz piano. I am also self trained, and before I started to take piano seriously I played mostly by ear, but at a certain point, felt it's not enough and till this day I study classical piano.
Alan – You are from Israel. You are currently in Germany (Berlin), is Europe more open to the form of your music for you than Israel?
Moran Magal - In a way yes.Israel is full of talented artists. But the kind of music I make fits more to Europe. In the past that made me sad, but today I embrace it.
Alan – When you were still in Israel. Were you there or were you a member of music groups? If so, which ones and with what focus?
Moran Magal - I played mostly as a solo artist, singer songwriter.I was on my own, not really a part of a group.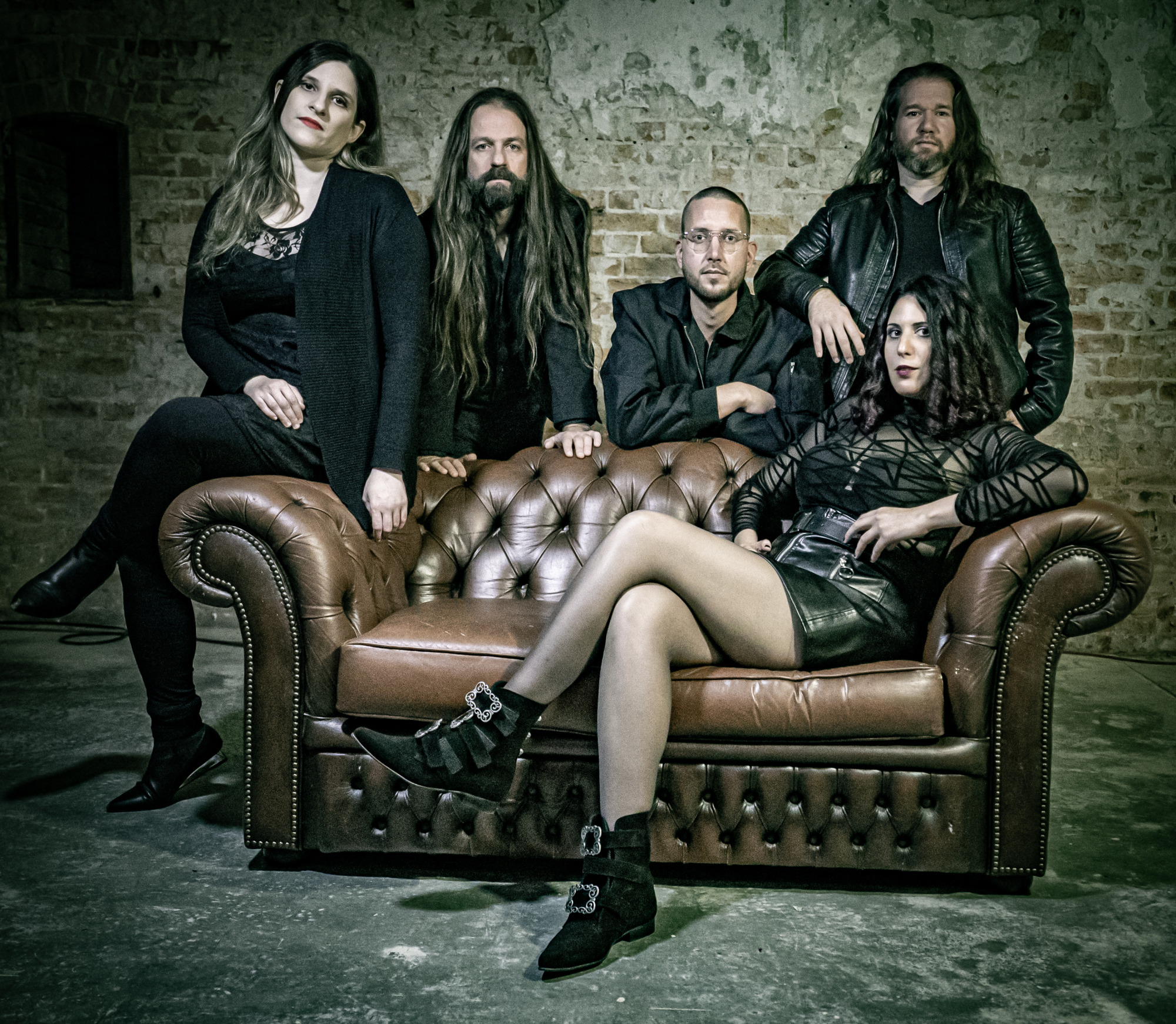 Alan – You have recorded several albums. Which ones are they? Is the musical focus of the albums the same? Or does it diverge by genre?
Moran Magal - My first 2 albums are more of a singer songwriter, story telling, playing around different genres, from rock to blues/cabaret.Shades of metal was my third album, only piano and vocal renditions to Metal classics, that album paved the way to Metal for me.From that point on, Under Your Bed and our new album Time Prisoner are by definition dark epic rock, with folk Metal influences. But I can honestly say, the music I make, is for people who love music, it's not genere limited.
Alan - Where or who did the albums come out?
Moran Magal - The first 3 were independent and the 2 others with the band - Under Your Bed and Time Prisoner are now with 7hard label.
Alan – There is a new album in the works. When do you plan to release it and on what media will it be released?
Moran Magal - We released Time Prisoner album with 7hard label this April 2023. It is the 2 album with the band, and my 5th as an artist.
Alan – Your musical focus is diverse, as I already wrote. You can't uniformly say it's metal, or rock, or folk. So what exactly do you create? Because your music, performing at concerts or festivals, you can go in different musical directions. You can perform at a metal event, a rock event, world music and many, many other offshoots.
Moran Magal - I Try not to limit my imagination and creativity when it comes to composing and writing. My music is on the Dark/ Epic Rock spectrum, but true, it can fit to metal, folk, and other different festivals . It's sort of Singer songwriter meets Metal. I share my inner world, and let music I love inspire me. I find it limiting to write and compose only at one specific genere, but the music I make with the band today is very cohesive, and many people can enjoy it, not just metalheads.
Alan - Your achievements? In Germany but also outside Germany and in your homeland?
Moran Magal - I collaborated with artists I love, such as Tanzwut, Orphaned Land Warrel Dane and played with my band on big festivals stages, I am also composing for other artists and enjoying life as a musician.
Alan – That might wrap up our first interview. We'll just mention that a new clip was released recently. Mouth of History? And is this a harbinger of a new album on CD/LP/MC?
Moran Magal - Mouth of History is taken form our new album time Prisoner, and features photography from our performance at Les Anthionises Festival in Belgium. What I personally love about this video is that is actually catches our personalities, a group of people, not taking ourselves too seriously, enjoying making music.
Alan – We will discuss more about your musical focus in the second part of the interview. Where I will also ask about texts that are painful and demonic. What to say in interpersonal relationships and ... readers will have to wait a while for that. So thanks for revealing yourself to us.
https://www.moranmagal.com