Interview with Cochies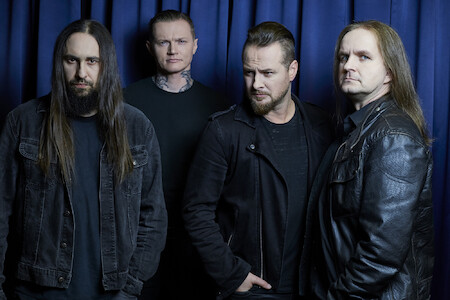 Alan - Who are you and who answers questions?
Cochies - Hi, we are COCHISE a rock band from Poland from Białystok. This is a city near to Belarus border. We are WOJTEK guitarist and Paweł singer.
Alan - How many times u playing in Czech Republic?
Cochies - This will be our first time and we hope it will not hurt (laugh).
Alan - Where can we check you out?
Cochies - We play several dozen of concerts a year. All information can be found on our facebook and instagram.
Alan - When someone would have interest in your concerts in Czech Republic where they can hit you out?
Cochies - So far only at the Ostrava festival, but we are open to suggestions.
Alan - What's your last album and what are you planning to do?
Cochies - Our fifth album "Swans and Lions" was released over a year ago. We are currently touring and preparing to enter the studio with our sixth album, which will be released on 18th of October 2019.
Alan - Do you know any Czech musicians or bands?
Cochies - Czech music is not promoted in Poland. It's hard to find any bands if you have not played with them. The only band from Czech Republic which Cochise played with was The Snuff. We played together at Woodstock 2016. Our bass player, Radek, used to listen to Krabathor.
Alan - Would you mind to cooperate with any Czech interpert and if yes with who?
Cochies - We are always open to new experiences and proposals.
Alan - You are long time on a scene. Do you have any unfulfilled musician dreams?
Cochies - Like every band we would like to sell as many records as possible, fill every club and play at every festival in the world.
Alan - What is your favorite 3 songs from you?
Cochies - Choosing only three songs is not so easy. let it be: "The Sun also Rises for Unicorns", "Swans" and "The Boy who lived before"
Alan - What 3 songs do people wanna hear on concerts? And what is your opinion?
Cochies - It will be "Letter from Hell", "Black Summer" and "Destroy the Angels" and as a band, of course, we hear and fulfill these requests even if the song is not in the concert set. Our audience is very important to us.
Alan - What do you wanna say to your fans in Czech Republic?
Cochies - As Pete Townshend from "The Who" says ...
"Rock music is important to people, because it allows them to escape this crazy world. The day you open your mind to music, you're halfway to opening your mind to life."
Watch out for yourself and see you in Ostrava on August 3.

http://stillalive.cochise.pl
https://www.facebook.com/cochiserock