Essence of Datum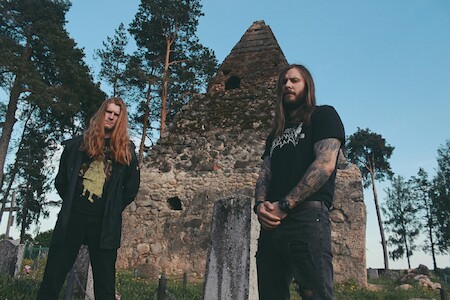 Reminiscent of their previous feat when they shattered the quietude with the thunderous "Spellcrying Machine" (2019), Instrumental Prog Metal Essence of Datum took yet another deep dive to embark you on a mind-bending sonic journey like no other as they unveil their latest creation: "RADIKAL RATS" – the sensational new album from the boundary-pushing synth prog metal duo!
Prepare to immerse yourself in a symphony of genres as "RADIKAL RATS" defies convention, weaving together the intricate tapestry of modern prog metal with the nostalgic allure of vintage synth pop. This album isn't just music; it's a sonic adventure through uncharted territories, where pulsating rhythms meet ethereal harmonies, and raw energy converges with timeless melodies.
The sonic landscape of "RADIKAL RATS" is further elevated by their commitment to authenticity. Every beat of the drums, every strum of the guitar, recorded in studio using analogue technology, delivering an unparalleled richness and depth. And keep an ear out for the unmistakable vintage guitar tone, masterfully blended with the unique resonance of percussion sounds and a heavy pocket – a harmonious collision of the old and the new which you would have never imagined could even belong together.
But wait, there's more! Brace yourselves for a surprise twist that will redefine your perception of our music. As "RADIKAL RATS" takes you on an evolution from our previous elements of black metal, you're in for an exhilarating ride that will challenge, inspire, and leave you craving more.
EOD comment: "For the rare breed who follow us since day 1 this will be a surprise to be sure but a welcome one. For the neophytes this will be quite a welcome to our universe!".
Stay tuned for the album release date, behind-the-scenes glimpses, and a chance to pre-order your very own slice of "RADIKAL RATS" magic. Get ready to dive headfirst into a world where genres blend, boundaries shatter, and music transcends time itself.
The first Single and album details coming soon!
Bandcamp - https://essenceofdatum.bandcamp.com/music
Facebook - https://www.facebook.com/EssenceOfDatum
Instagram - https://www.instagram.com/essenceofdatum/