an interview with Caroline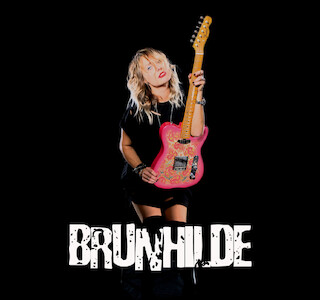 Alan - Thanks for being able to make a interwiev for our medium.
Caroline - It´s me a pleasure.
Alan - Who are you and who answers questions?
Caroline - My name is Caroline, in the fronted Vocal of the Band Brunhilde. We are from Germany.
Alan - How many times were u playing in Czech republic?
Caroline - four times. The Czech Republic is one of my Favorite countries where we played.
Alan - Where can we check you out?
Caroline - We´ve a Homepage, Facebook, Instagram, Twitter, (although I don´t like twitter) We have also a Youtube Chanel and you can hear everything of Brunhilde on Apple Music, Spotify and so on.
Alan - When someone would have interest in your concerts in Czech Republic, where they can hit you out?
Caroline - actually, we have all concerts on our homepage, on spotify, songkick and Facebook. but also you can write us an email... I am happy about personal inquiries and reply as soon as possible.
Alan - Whats your last album, and what are you planing to do?
Caroline - our last album called "behind my mind". it´s from 2017. In these two years, a lot has happened. Currently, we are working on a new Album. I´m so excited about it. many things are different... better and ... let yourself be surprised...
Alan - Where in Czech was the best city to play, and why?
Caroline - my personal best cities was Hradek and Loket. Hradek was small, but the feeling on this area, was magic. Loket is such a beautiful place. The Castle, the Houses, the old building everywhere... The theatre an the view about the city was amazing. and the people of both places were so kindly.
Alan - Do you have any favourite festival?
Caroline - Hradek, Rock im Park, wacken, southside.... they´re so many good festivals.
Alan - And in foreign countries? do you have any favourite festival or club?
Caroline - If we succeed, I would like to play "Rock on the Range" or "Lollapalooza".
Alan - Do you know any czech musicians or bands?
Caroline - of course. Turbo for example.
Alan - Would you mind to cooperate with any czech interpert, and if yes with who?
Caroline - we have never thought about that.but it is a option. Do you know any interprets to work with us?
Alan - You are a long time on a scene. Do you have any unfulfilled musician dream?
Caroline - A worldwide Nr 1 hit.
Alan - What 3 songs do people wanna hear on concerts? and what is your opinion?
Caroline - i think its "Fake or Real" because there is a Musicvideo. "Driving like a manic" and "Serious Teacher" The Songs are remastered and have a good position on Spotify.
Alan - What is your favourite 3 songs from you?
Caroline - My favourits songs are, "Dealing", "Dark Defender" and "Serious Teacher"... at the monent!! There a much more.
Alan - What do you wanna say to your fans in czech republic?
Caroline - We love you and it is so fantastic to play for you in on of the nicest countries ever. Take care of yourself and you´re never to old to rock.